Online: Click here to make a recurring or one-time gift
By Mail: Make checks payable to Nichols College
Office of Advancement
Nichols College
P.O. Box 5000
Dudley, MA 01571-5000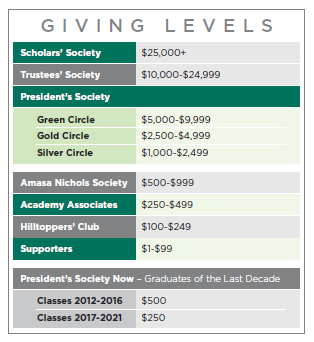 Supporting Bison Athletics for Today and Tomorrow
The Bison Club offers six membership levels, starting at $100 ($50 for graduates of the last 10 years), which include exciting membership benefits. Click here to join the Bison Club today. We appreciate your support!
Matching gifts are excellent ways to leverage your giving to Nichols. Many companies match the charitable contributions of employees, spouses of employees, retirees or board members. Please visit our matching gift page to find out if your company offers this opportunity.
Your employer's human resources or community relations office can assist by instructing you on the proper procedures and guidelines for matching your contribution. If you have any questions, please contact the Office of Advancement by email or at 866-622-4766.
Gifts of stock are a wonderful way to support Nichols and provide you with both income and capital gains tax deductions.
To make a gift of stock, please call the Office of Advancement at 866-622-4766.
In some cases, due to privacy laws, brokerage firms will not release the name of the donor who initiated the transfer. Therefore, if order to properly credit your donation, please contact Susan Veshi, assistant vice president for advancement, prior to making a donation to inform us of the name of the stock, as well as number of shares and how you would like the gift to be used. We will provide you the account and DTC numbers. Susan can be reached at susan.veshi@nichols.edu.
Once again, we thank you for counting Nichols College among the beneficiaries of your charitable giving, and for your commitment to Nichols and to the future leaders we serve.
Leaving an estate gift is one of the more personal and effective ways donors can make a difference in the life of Nichols College. Your bequest can help create endowed scholarships and professorships or revitalize the campus with new and renovated facilities.
For more information about planned giving and donors stories, click here.
For questions or sample bequest language please email plannedgiving@nichols.edu or call 508-213-2211.