Tammy Wolf '94: Volunteer leader and scholarship champion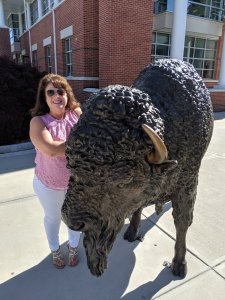 Tammy Wolf's first gift to Nichols College was in the summer of 1995, in the amount of $19.94, in honor of her graduating class. Her generosity did not stop there; she continues to give and hasn't missed a year since 2000.

During those years, Wolf also became more involved at Nichols, holding several volunteer roles, serving as the President's Society chair, co-hosting alumni receptions, becoming a member of the Board of Advisors, and currently chairing the Advancement Committee as a member of the college's Board of Trustees. She is often described as an energetic, passionate, and selfless volunteer whose enthusiasm is contagious.

Last year, when the Class of 1994 marked their 25th reunion, Wolf and her classmate Eric Smyrl took the reins on a special celebration on the Hill, rallying some 50 classmates to not only join the festivities but to help launch an endowed class scholarship. During the event, as Wolf announced the $25,000 fundraising goal, a fellow trustee jumped in with a matching opportunity. This was followed by a raffle and, before long, the passing of the hat for scholarship donations, reminiscent of their college days when money was collected for beer. Thanks to the hard work of Wolf and Smyrl, and the generosity of the class of '94, they have recently hit their scholarship goal, creating the Class of 1994 Endowed Scholarship and leaving a legacy that will have a lasting impact on generations of Nichols students to come.

"There was a time while I was attending Nichols College that I would have really benefited from an endowed scholarship to help me with my financial needs", says Wolf of her motivation to help today's students. "By sponsoring scholarships, I know that I am making a direct impact on a student during their time on the Hill."

Not only was Wolf instrumental in establishing the '94 endowed scholarship, she spearheaded a scholarship effort for Nichols students who reside in Florida, her home state. Additionally, she created her very own Tammy Cardillo Wolf Endowed Scholarship to support a female student who is actively involved in the Institute for Women's Leadership.

Wolf has decided to continue the impact of her scholarship through planned giving. When asked about her decision to include Nichols in her estate plans, she reflects, " Nichols College holds a special place in my heart. The education I received gave me the foundation I needed to get me off to a great start in my career and I have been successful year after year. I feel strongly about giving back to the place that gave me the skills I needed to achieve my goals."

At Nichols College, Wolf found a second home, a practical education, and life-long friendships. For her, supporting Nichols is an easy choice. "I feel blessed to have the financial ability to make a difference for a Nichols student", she says.