The Colonel Conrad Society was created to recognize the generosity of alumni and friends who have made a planned gift to the college or have included Nichols in their estate plans.
Nichols is an extraordinary place because of the contributions and loyalty of its donors. Every gift, no matter the size, supports the mission of the college and opportunities to the growth so that Nichols may fulfill its vision as a college of choice for business and leadership education.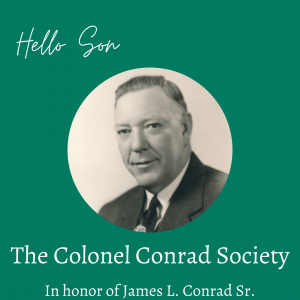 This year Nichols College has partnered with Life Legacy, a technology platform that helps individuals quickly and easily create wills and life insurance policies online for the benefit of Nichols College. We are excited to offer this service to our alumni, free of charge.
Click here to create a will and testament.
Click here to explore life insurance policies.
For more information about how to include Nichols College in your legacy or to notify us of your plans please contact advancement@nichols.edu or call 866-622-4766.